Hello! It's been awhile since I've blogged, but many people have been asking me what I cook or prepare for baby boy. I thought I would blog what I did 6 months to now to give anyone a little inspiration.
I wanted to do Baby-Led Weaning from the start, but baby boy didn't catch on at 6 months, and I wanted to get some food in him. I ended up doing a combination of purees and solid foods until he eventually caught on to solid foods at about 8 months. Amazingly, he had no teeth and was able to gum everything. Now at 10 months, he only has 2 and still eats only solid foods. No purees! Hooray!
This is the book I used to start. LOVE IT!
I would spend about 2 hours every two weeks steaming, boiling, and blending food. I used ice cube trays (which are 1 oz each cube) to freeze servings. I discovered you can also freeze cooked oatmeal, quinoa, barley, and rice. Once frozen, I popped them into labeled freezer bags. The great thing about freezing 1 oz servings is when you start to mix flavors, you can just thaw servings together and stir.
Great combinations that baby boy loved:
Chicken & apples
Chicken & carrots
Sweet potato & carrots
Peas & carrots
Blueberry & banana
Blueberry & apples
Peach, mango & spinach
Mango & peas
Beef stew (stew meat, sweet potato, onion)
Squash, apple, & kale
Apples and cinnamon
Now, I still use my ice cube trays to freeze cooked sweet potato pieces, peas, and homemade apple sauce.
For when we were on the go, I used Infantino pouches. Love them!!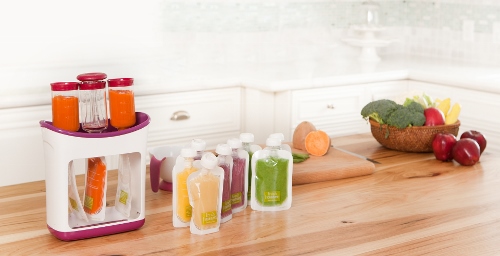 I love that they are freezable, see-through (so you know they are fresh) and easy to fill. The only down-side is that you have to use their "squeeze station" and they are not reusable. But for only 5 cents a pouch, I think they are worth it!
Now that he's older, he eats chopped up portions of whatever we are having. It has made me change our meals slightly to make sure we are serving him a healthy diet. His favorites are bananas, pears, chili (beans, ground beef, and tomatoes), and grilled chicken pieces. I do make certain things just for him, and freeze them for easy meals:
Zucchini Tots
Baby Cereal Pancakes
(Plus blueberries or strawberries)
Blueberry Muffins (from Organic Purees book)
Homemade yogurt melts: yogurt mixed with a puree and frozen in drops.
Homemade applesauce: apples, cinnamon, and a splash of vanilla
I hope this is helpful!